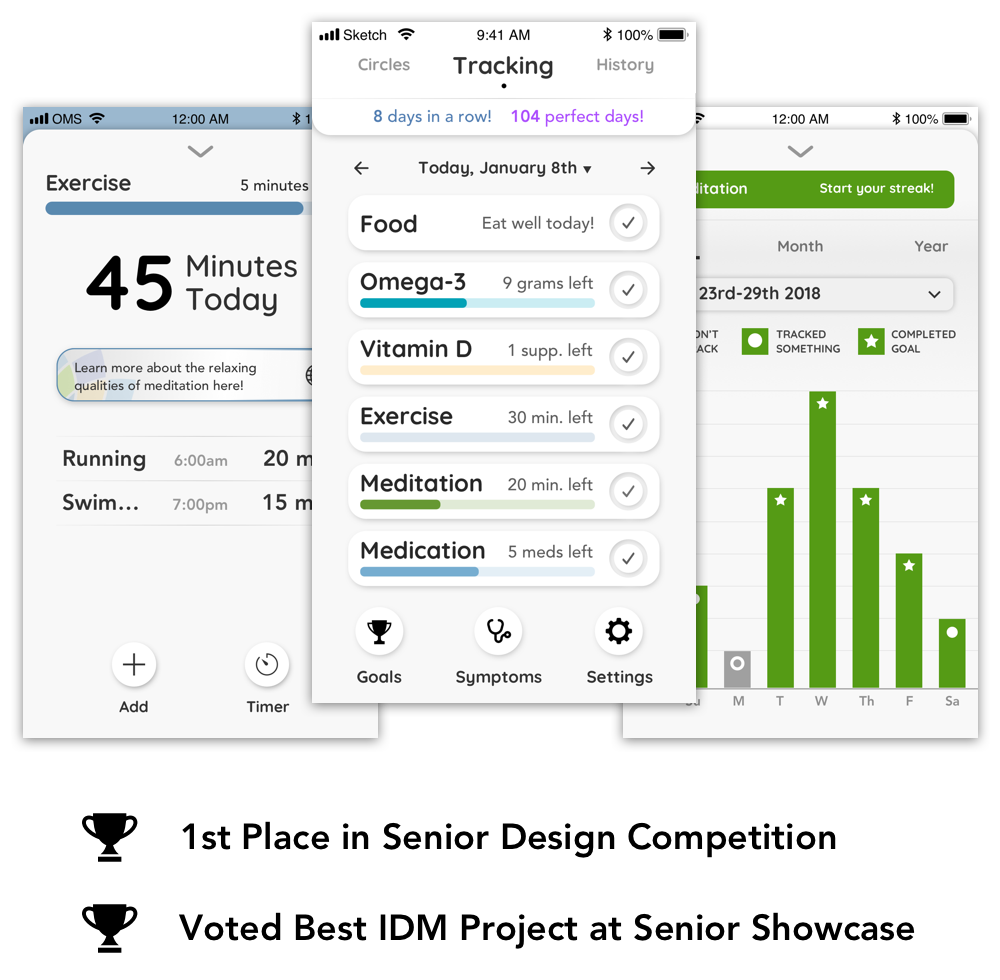 Overcoming MS is an iOS application that makes following the Overcoming MS non-profit's lifestyle plan simple and easy. The app is currently in beta and will be available on the App Store in Fall or Winter 2019.

Multiple sclerosis is a rare disease that can be difficult to live with without constant treatment and management. At this time, there is still
no cure
for the disease, which makes it a lifelong challenge.
However, there have been some amazing organizations working to make living with MS easier. In the past decade, a non-profit called
Overcoming MS
has developed a holistic lifestyle program that has been scientifically proven to reduce the severity of symptoms in those with MS. But like with any long-term lifestyle program, changing your habits is difficult.
Overcoming MS reached out to
Drexel University
to see if a team of seniors would be willing to help with this problem, and my classmates and I happily obliged.
The OMS plan is a
7-step program
that includes: diet, sunlight, exercise, meditation, medication, prevention, and connecting with others. The diet is the most important part of the program, which is a
plant and fish based diet
. If you'd like to learn more about the research behind the program, the concise video above is a great place to start.
According to Overcoming MS, new members struggle to adapt to all of the lifestyle changes that program requires, like the
restrictive diet
and meditation practice. Especially if you have been recently diagnosed with MS, adjusting to both the disease and these changes can be
overwhelming
.
Create a digital solution that reduces the friction of following the program for its thousands of members.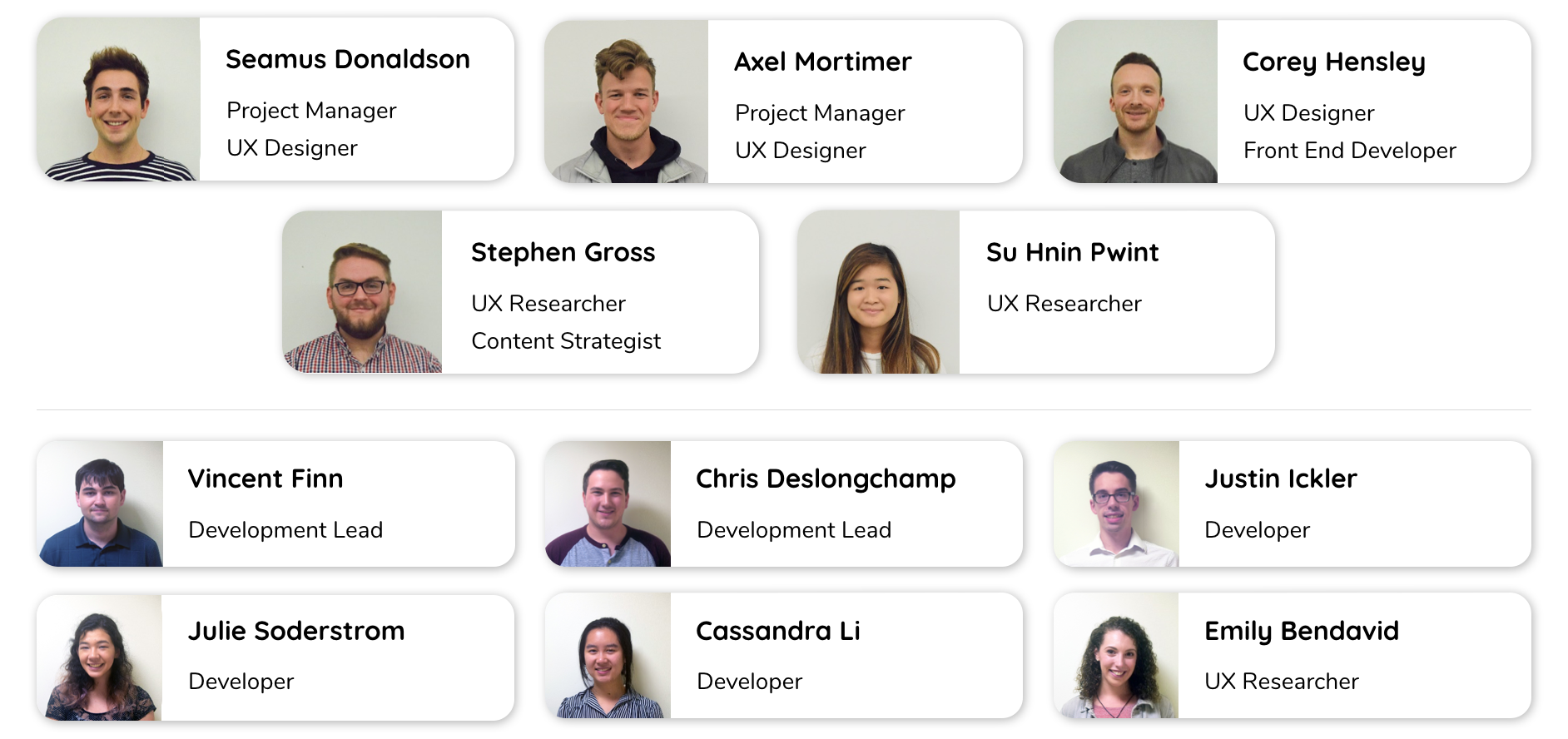 My role on the project was both as a
Design Manager
and
UX Designer
. Our cross-collaborative team from both the Design and Computer Science schools at Drexel included
11 people
, which broke down into:
2 Design Managers / UX Designers
1 Lead UX Researcher
2 UX Researchers (also helped with Content Strategy, QA, etc.)
1 UX Engineer
2 Development Managers
3 Software Engineers
As a
Design Manager
, my role was to organize both our own internal goals as well as deliverables needed for the class itself, such as
timesheets
and
weekly summaries
. Coordinating with the Development Managers and
communicating expectations
was also a large part of the process.
As a
UX Designer
, my job was to take findings from our researchers and develop solutions in the form of
user flows, sketches, or low-to-high level mockups
, and sit it on
testing sessions
to understand what did and didn't work.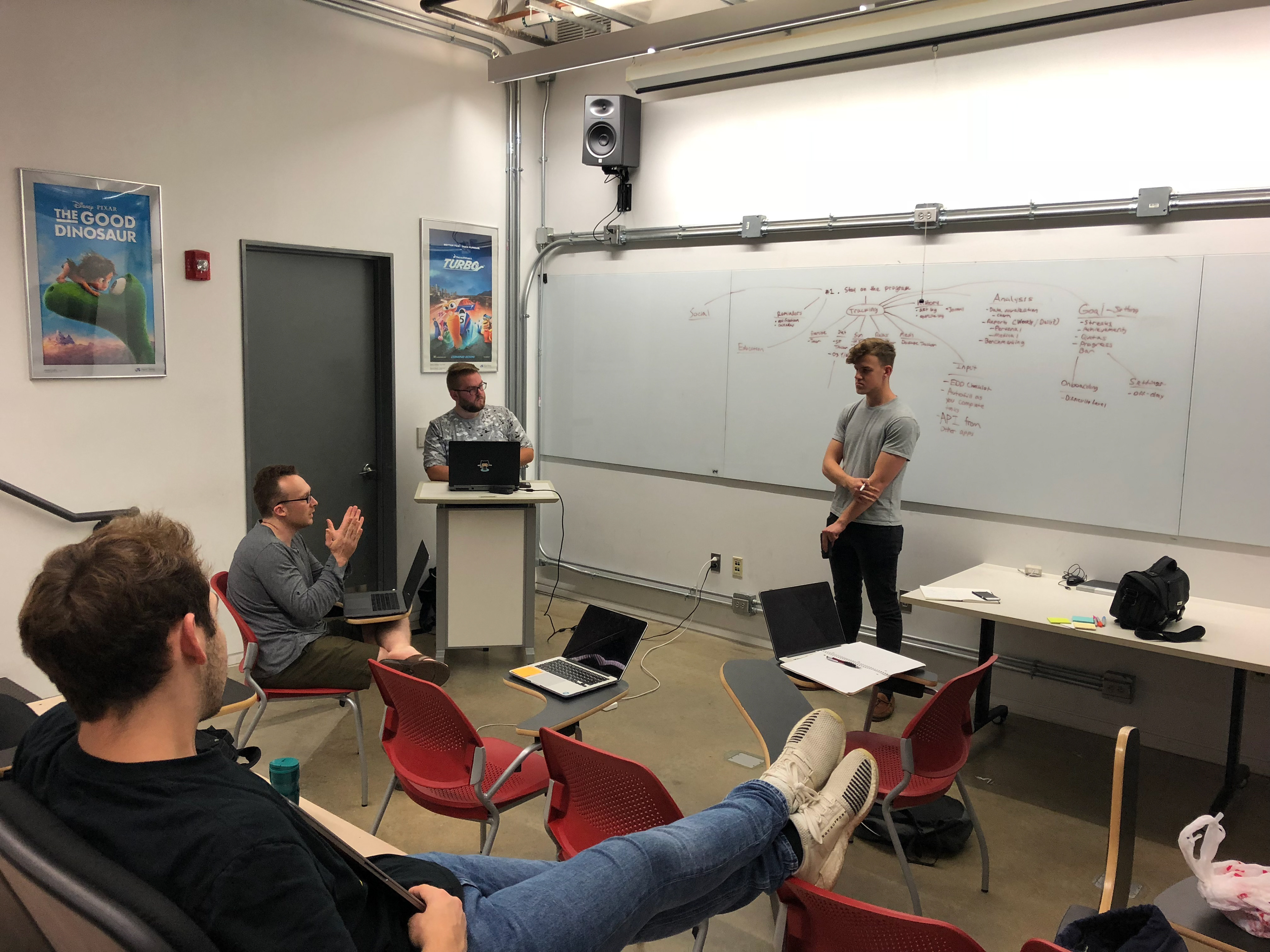 As early as possible, we defined our
research process
and started
interviewing
as many people as we could. This was the part of the research I was mostly heavily involved in, since these deliverables were needed before I could begin my main responsibilities of designing a solution. I had some important questions like: What parts of the program did they find most difficult? What systems did they have to self-manage it currently? As a designer, these findings would help me settle on what was the most important
pain points
that users of the program had, and that we as a team could most effectively target in our application.
Finding
research participants
was tough, because the number of people on the program isn't incredibly high at this time. We also attempted sending out
online forms
and
questionnaires
to communities involved with OMS, but feedback on these was low and we ceased those efforts.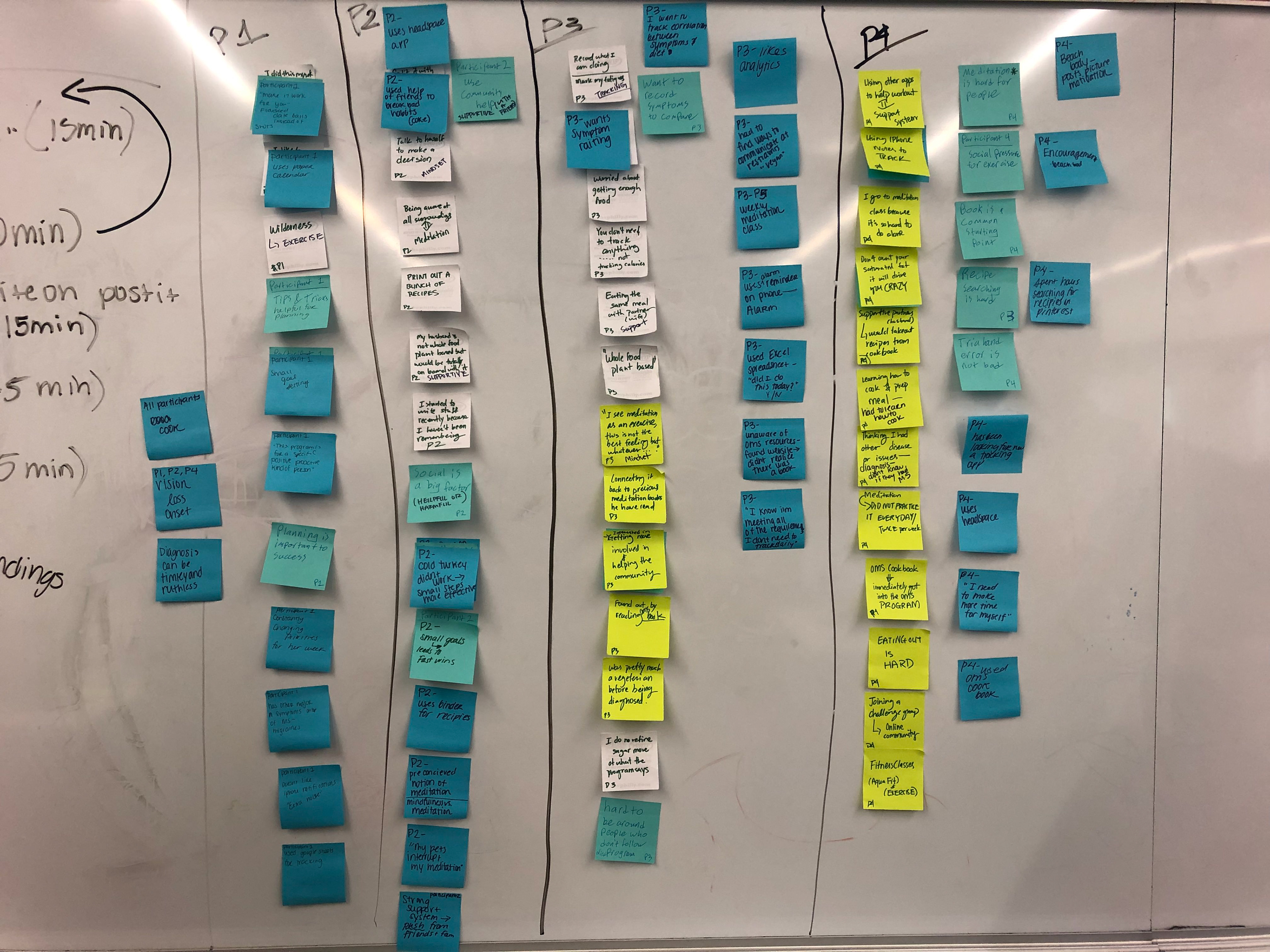 Most of our information in this phase came from
remote qualitative interviews
. We would talk to people from the US, UK, and Australia over
Skype
and asked them a series of questions that allowed us to gradually develop a
persona
of who we were designing for. Based on these interviews, we found that people who have been on the program for a long time generally developed successful habits, but new members consistently lost track of what needed to be accomplished each day to follow the program.

Based on all of the brilliant work the researchers on our team had spearheaded, we were now ready to start defining our
solution
.
A digital app targeted towards new OMS members that allows them to
track
each step of the program, access
special tools
to make it easier to perform these steps,
record symptoms
, and
learn
more about both multiple sclerosis and the program, all designed to streamline the process of adjusting to this lifestyle.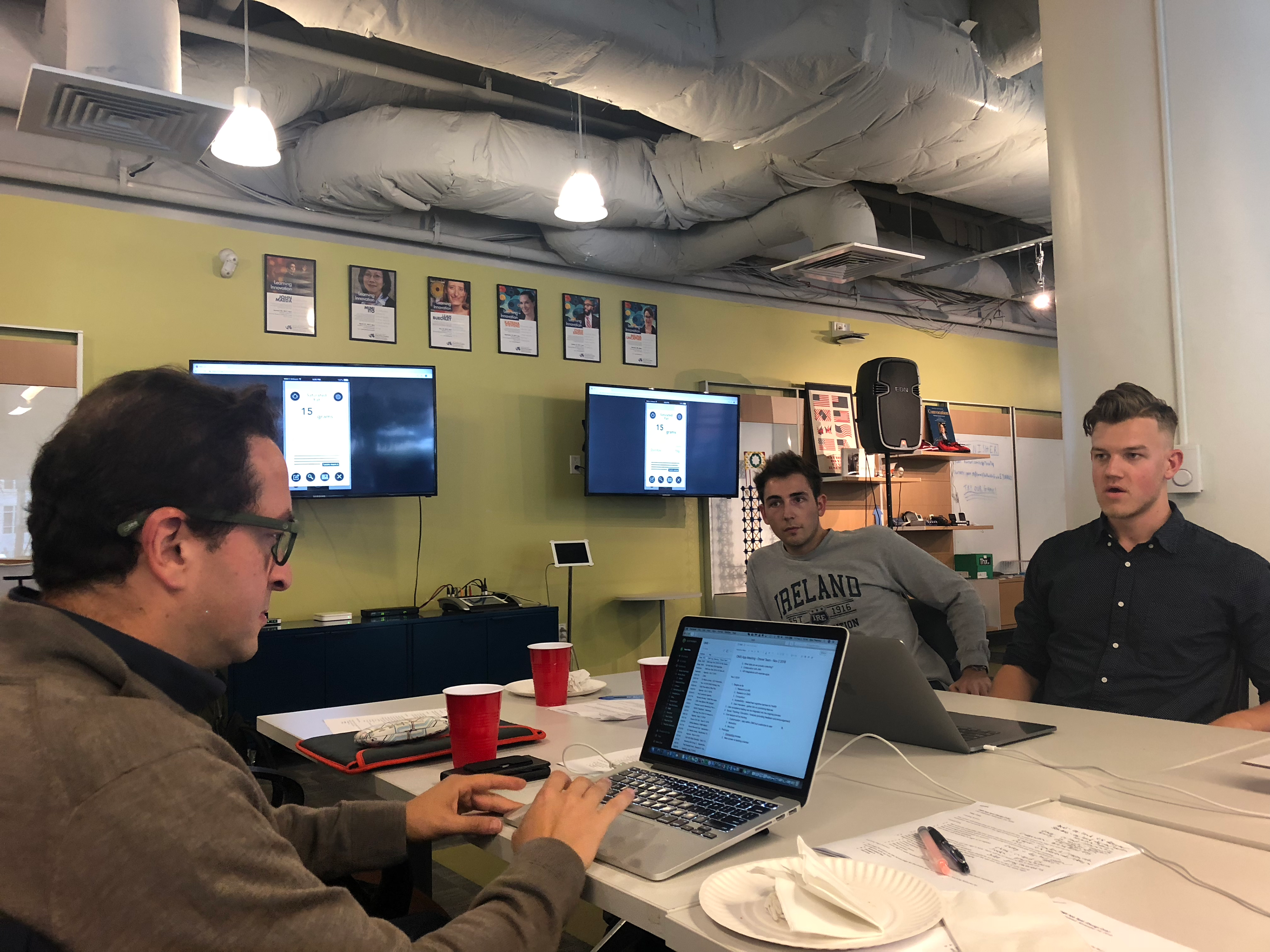 We ran a lot of
whiteboarding
and
sketching sessions
, with both designers and researchers present, to generate as many ideas as possible. We knew that one of the most requested features was the ability to quickly see what needed to be done on the program on a daily basis, so we seemed to settle early on a
to-do list style
home page that presented all of this immediately and clearly.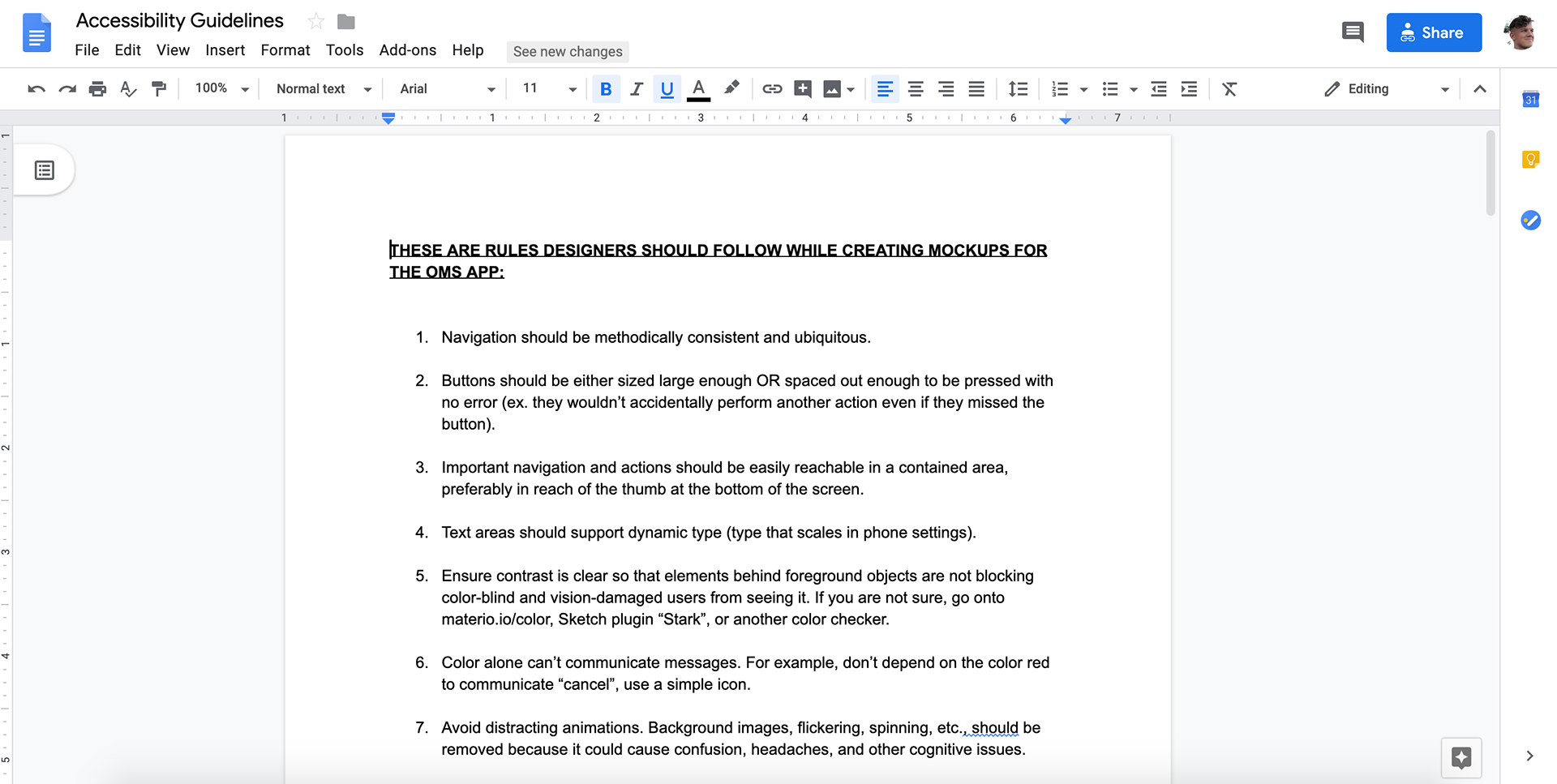 We also had generated a list of design concerns specific to
accessibility
for people with MS that drove our process; an example of this being that people with MS who have muscular issues can sometimes struggle to touch where they meant to. Because of this, we wanted to focus on a
consistent design style
and
large input areas
wherever possible. So across our app, much of the major navigation is located in the bottom half of the screen, where it is easily accessible.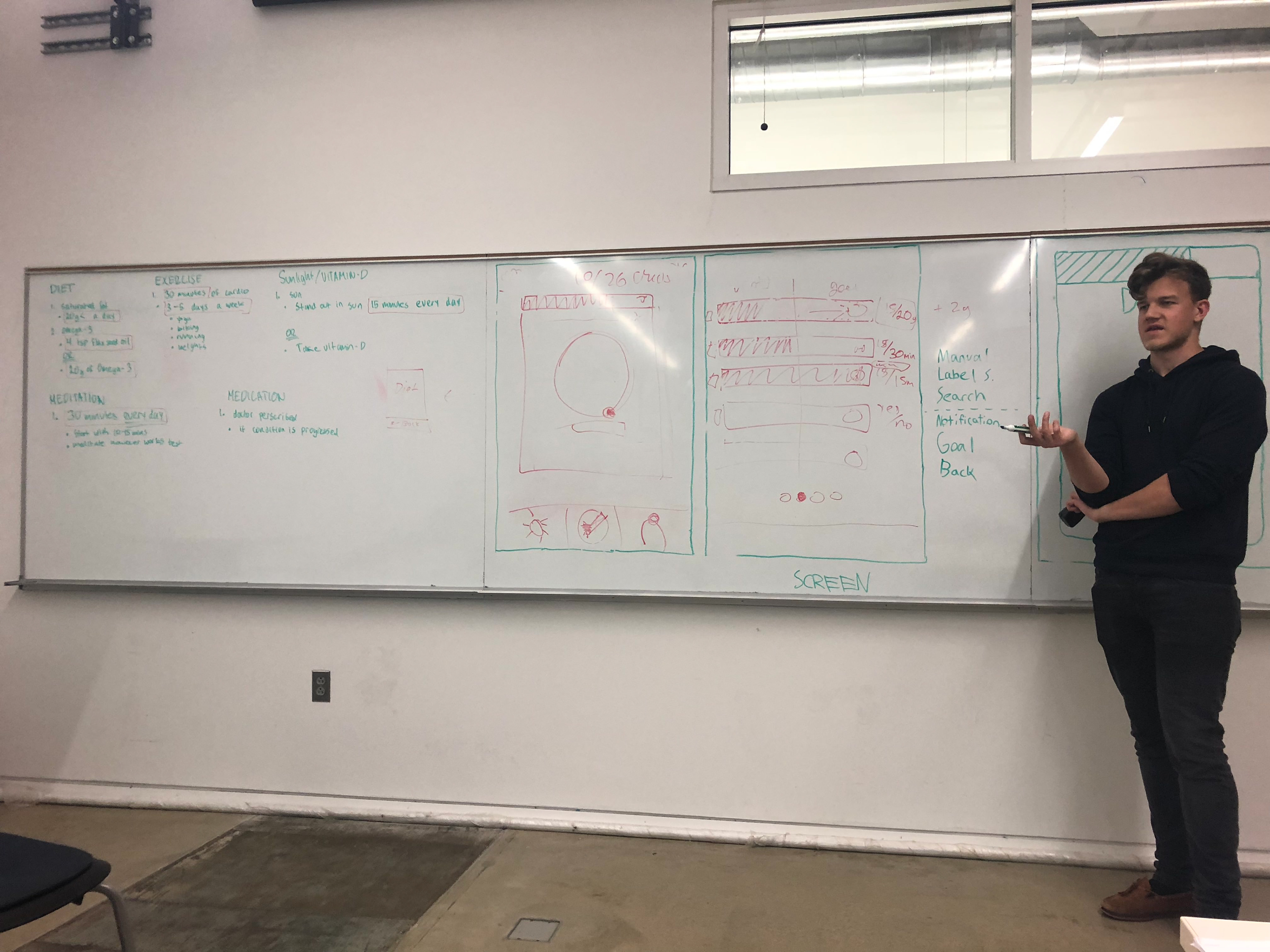 After establishing these driving principles, the next step was fleshing out the features of the app. My co-designer and I knew this app needed to
grow
with the user; a new member is going to be dependent on different parts of the app compared to someone who has been on it for a couple of months, and if we alienate someone along this process it might jeopardize their success. This insight lead to our
Overlay
system, which allows experienced users to
Quick Complete
 a step from the Home page if they are experienced and doesn't need help (think someone who has a pillbox and doesn't need to check medications off individually). Opposite of that, new users can access specific tools in the Overlay by pressing on the progress bar itself, examples of which includes
timers
and
guided meditations
.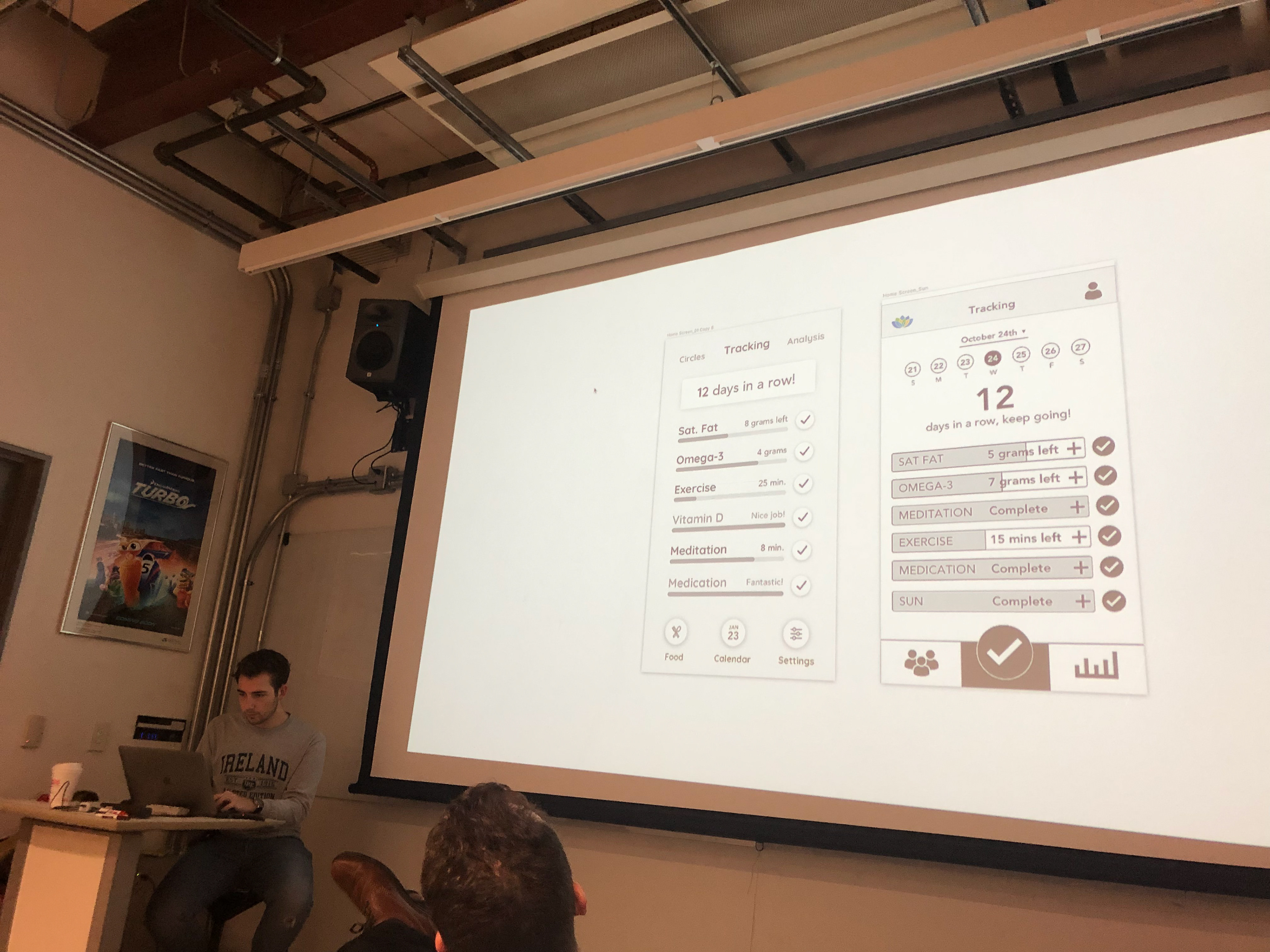 One example of the benefits of the Overlay system can be seen with the
Food
section, which was one of the most requested features. Like MyFitnessPal, users will be able to
scan
the barcodes of foods, but instead of seeing calories they'll see important parts of the OMS diet like saturated fat and Omega-3.
As we pushed from
low-fidelity
to
mid-fidelity mockups
, we had to be careful about our use of color since many people with MS can develop color-blindness. We had to make sure none of our designs communicated anything with color that couldn't be understood in grayscale. This eventually led us to our
multicolor palette
, where each step was assigned a specific color giving a unique feel to that part of the application. We would only then communicate actions by
specific text
and
iconography
on top of changing the brightness of the color (ex. Confirm being darker than Back).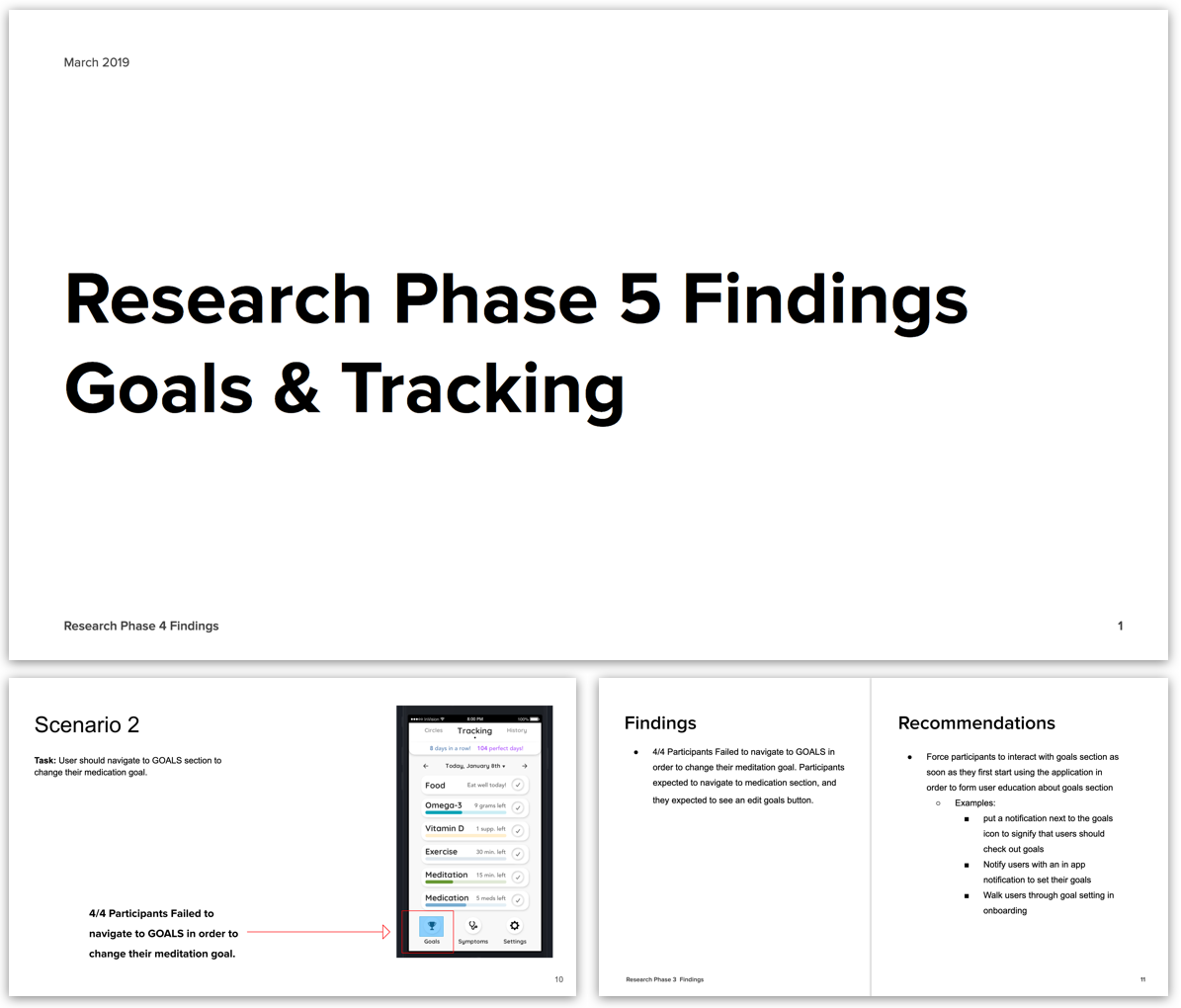 Something we learned early on in testing was that we had framed our sources of motivation incorrectly. We falsely believed that the motivation came from the act of inputting your data into the app, when in actuality, this was more of a signal that the user was
already motivated
(which is backed up by studies about other self-tracking apps such as this). And unlike other self-tracking apps, our users were already
self-motivated
to reduce their symptoms, and needed more of a
management system
than a life coach.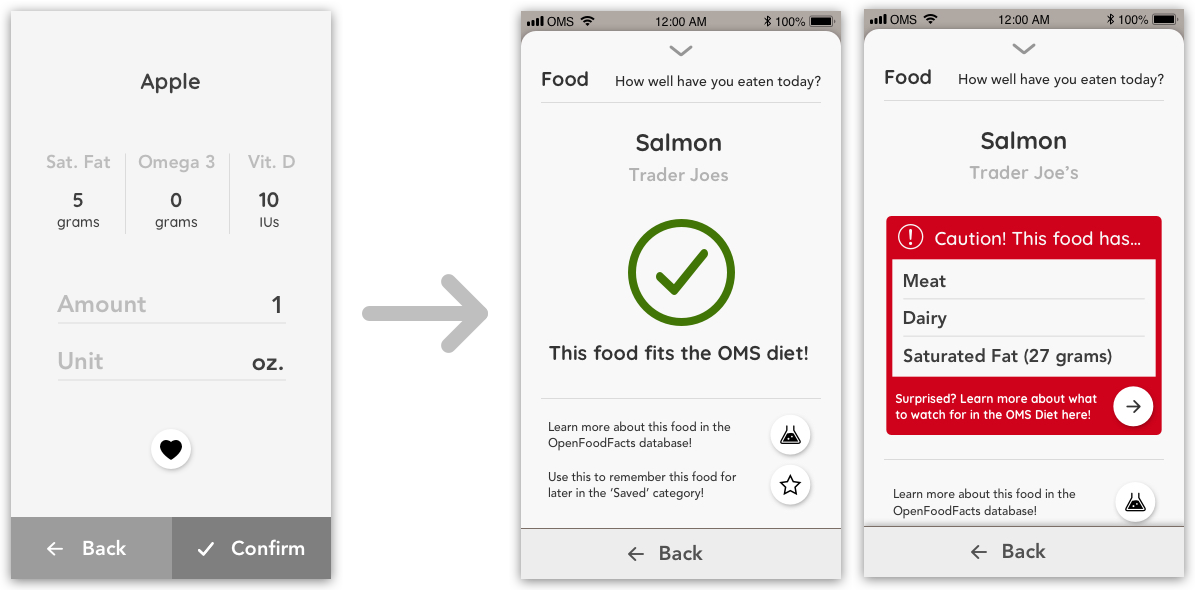 This gave us an opportunity to simplify parts of the app. For example, w

e originally asked the user to track how much saturated fat they were intaking, because that is a
major diet restriction
people following the OMS plan must pay attention to. However, we found through testing that this just added an
extra layer of complexity
that didn't exist before and confused the users. In the Winter quarter, the Food section was updated to be a more
holistic educational tool
, where users could search or scan the barcodes of food they may be eating to see if it fits the OMS diet, rather than keeping an extensive food log.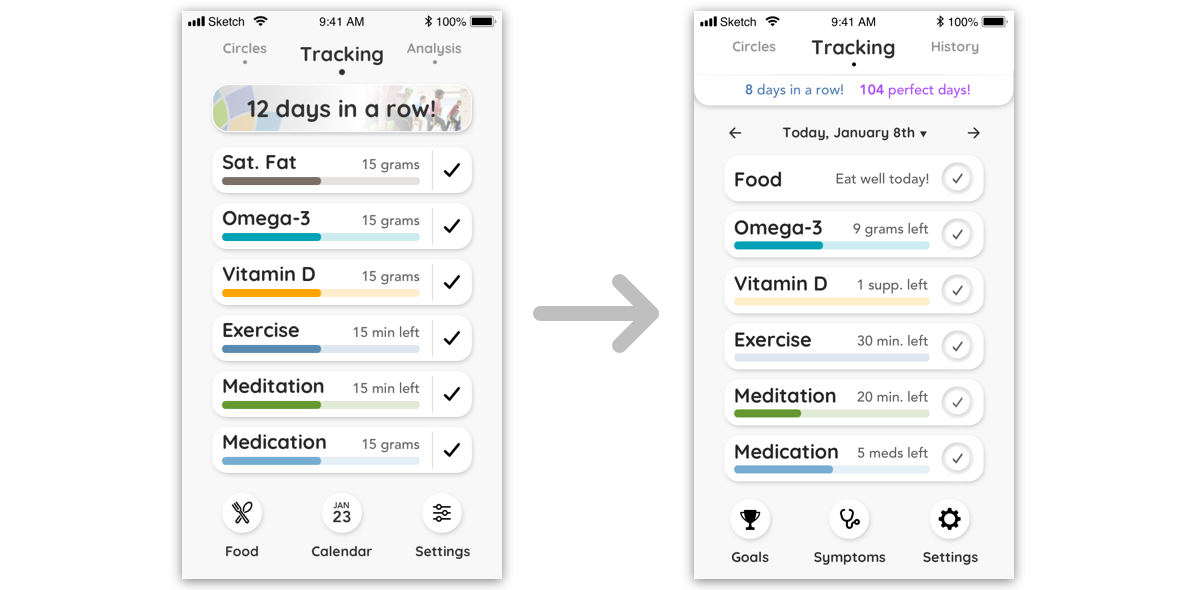 In this same theme, we also learned more about how proven
design patterns
don't necessarily cross over to those with special cases such as ours. For example, we initially kept a streak of how many days in a row someone has completed their goals to keep them coming back each day, a common design choice in this area; however, some and our users expressed frustration with this part of the app. They mentioned to us that sometimes they might have a
symptom relapse
and can't complete many parts of the app, which means our app would be punishing them for something they can't control. We reframed this part of the app from "complete everything each day" to "do your best each day" by splitting this streak into a streak for entering any data that day and a general tally for days where all goals are completed.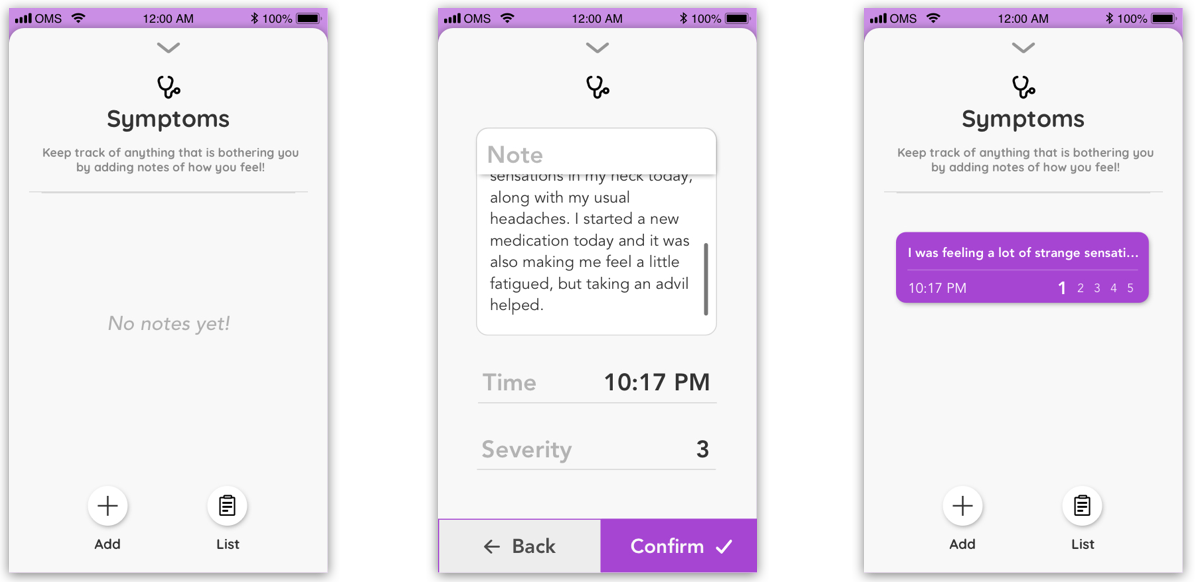 One part of our app that would probably be considered a late addition was called
Symptoms
. Simply, based on a part of our app where users could take notes, many expressed in testing that they wished this feature was expanded into a more
cumulative list
so that they could keep track themselves and show their doctors. We added a Severity rating so that they could more easily track what they needed to pay attention to.
All of this helped us finalize the app in the middle of Spring quarter as our developers needed us to lock-in the app's design and features.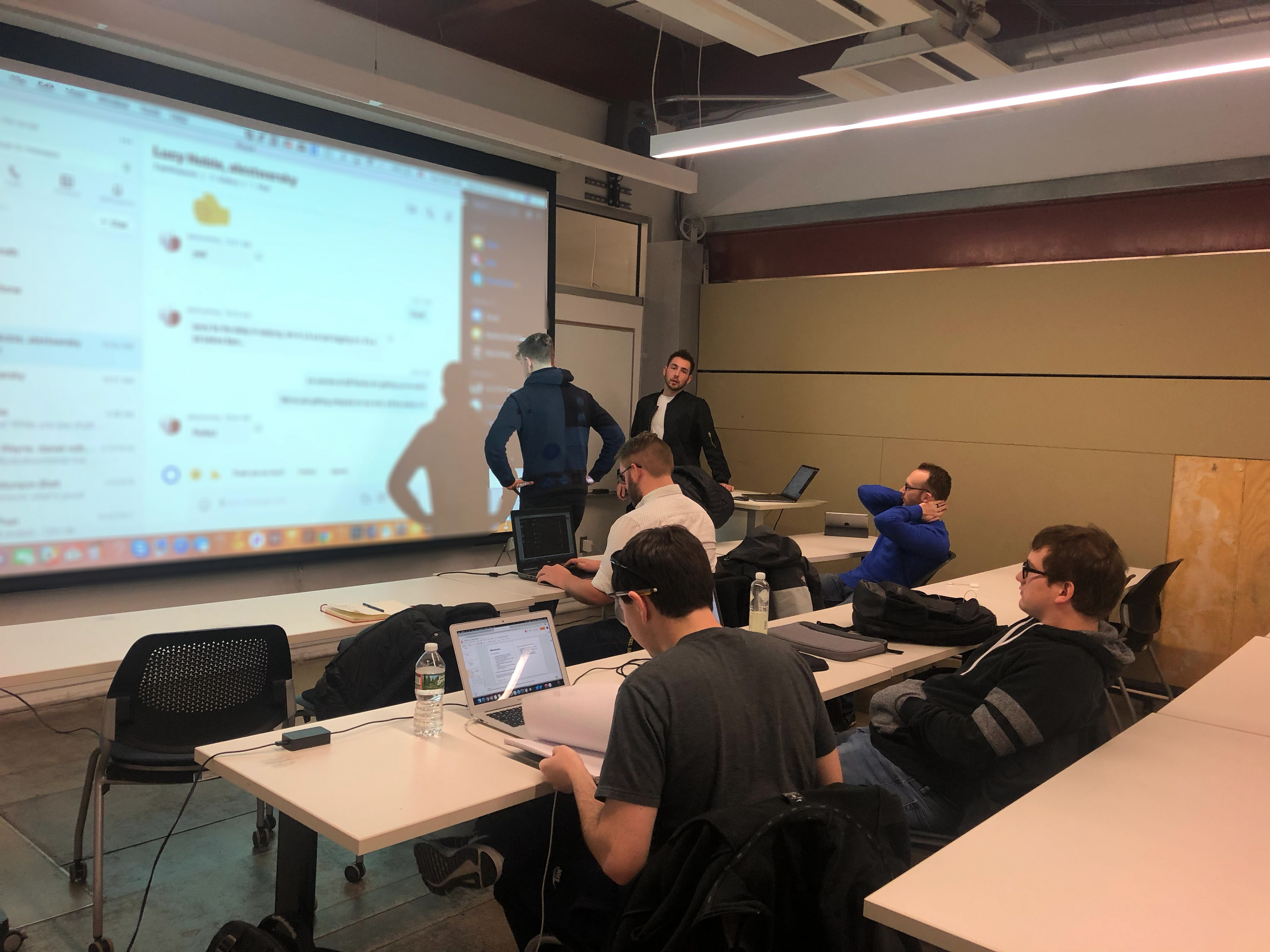 At this point, most of my work as a designer was done, and my focus turned to working with our UX Engineer and other developers on clarifying and prioritizing work we had done up to that point.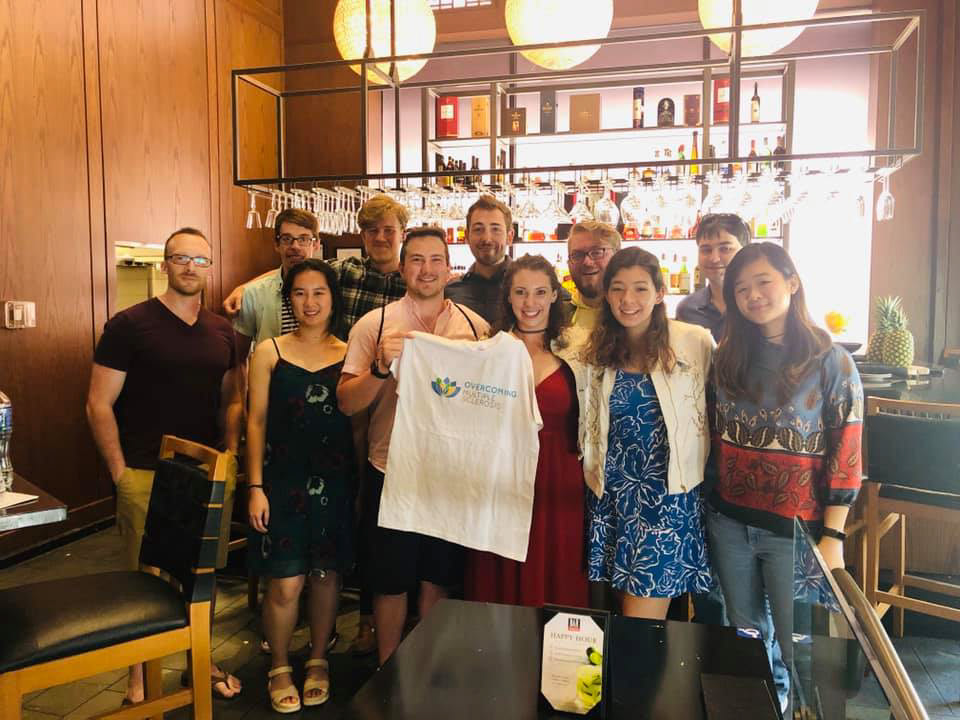 Last but not least, we presented our work in front of an audience of 200 to 300 people at our Design Senior Showcase!
While I learned a lot as a designer on this project, I also learned a lot as an inexperienced manager, which gave me a better perspective on how larger projects work in the real world.

Dream big but scope realistically. 
Two large parts of our app went unfinished because we had unrealistic expectations on what was achievable. If we had focused on what we knew was achievable and absolutely necessary and then expanded on that, it would have saved us a lot of stress at the end of the project when we came to these realizations.

Best ideas come from the users
.
I've never done more usability testing on a project than on this one, and the power of crowdsourcing your design process made a large impression on me. I always believed in the benefit of usability testing, but in this case the context was more personal, which lead to some amazing insights.
Focus more on accessibility than you think you have to
. I would have separated accessibility testing from the rest of our usability testing so that I could be sure we didn't miss anything.
"Overcoming MS is a global nonprofit that educates and empowers people with MS around the world about diet and lifestyle changes they can make to improve their health outcomes. We had been contemplating the urgent need to develop a comprehensive smartphone app that would make it easier for people to adopt and stick to our evidence-based program, and fortunately for us, we were selected by an amazing group of Drexel University students as their senior thesis project. From the start, it was hard to imagine we were working with a group of students. The Design and Computer Science teams conducted the development process with unparalleled professionalism, dedication and creativity.
The Design team dove into the complexities of MS, and the intricacies of the lifestyle changes that our program recommends. They conducted dozens of interviews with people around the world, from those on our program to medical professionals, in order to form a solid foundation on which to develop numerous iterations of UX and UI design that would most effectively accomplish the app's goals of helping people with MS adhere to a wide range of lifestyle modifications. They collaborated seamlessly with the excellent team of programmers that comprised the Computer Science team, and who translated the front-end requirements into highly functional code. The entire effort was kept on track by super project management on both sides of the development coin. Throughout the process, the two groups worked together in close coordination in order to anticipate issues before they become problematic, come up with creative user-friendly workarounds, and ultimately produce an app that will undoubtedly make a positive impact on thousands of lives.
We at Overcoming MS were thoroughly impressed with the entire team's performance and commitment to the project they had embraced, and we are ever grateful. We were not working with students; we were working with young professionals whose contributions went well beyond a student project. We would happily offer the highest reference for each and every member of the team, and we know an employer who hires any of these 11 amazing students will quickly see the extent of their talent and know how."
- Alex Twersky, Global Marketing & Communications Manager for OMS