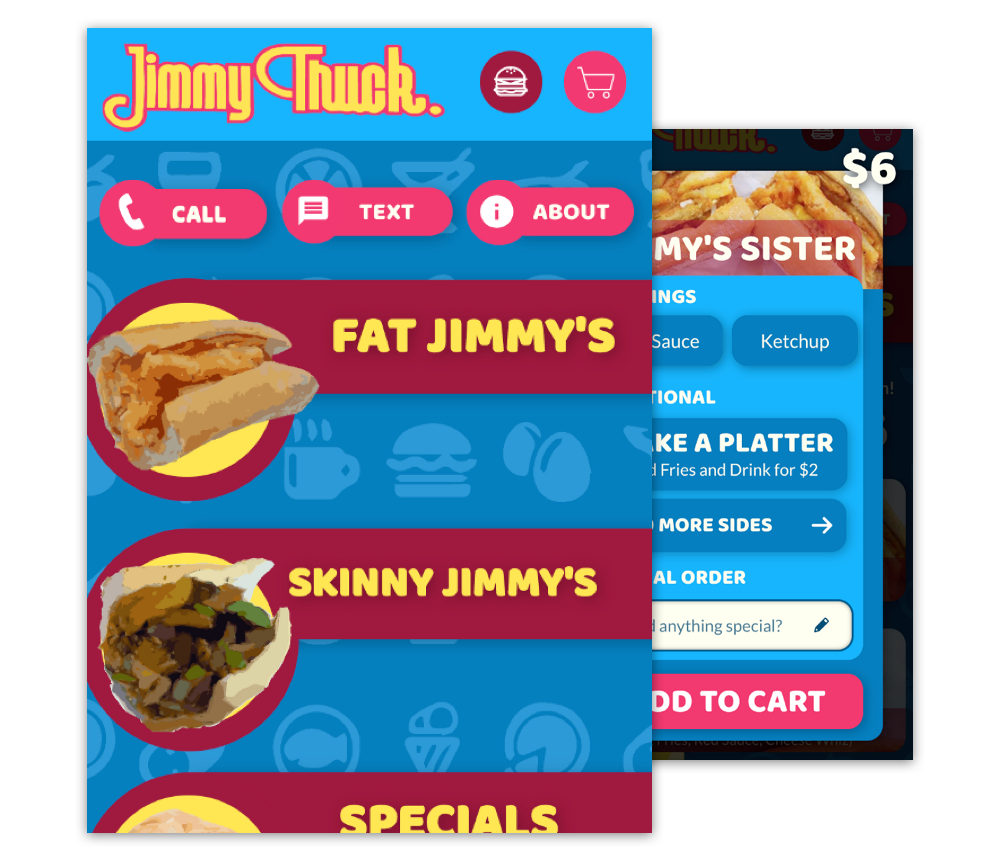 This is a case study for the group project in IDM 215 (User Experience Design), where I was a
Project Manager
and
UX Designer.
You can see the live prototype on UXPin here.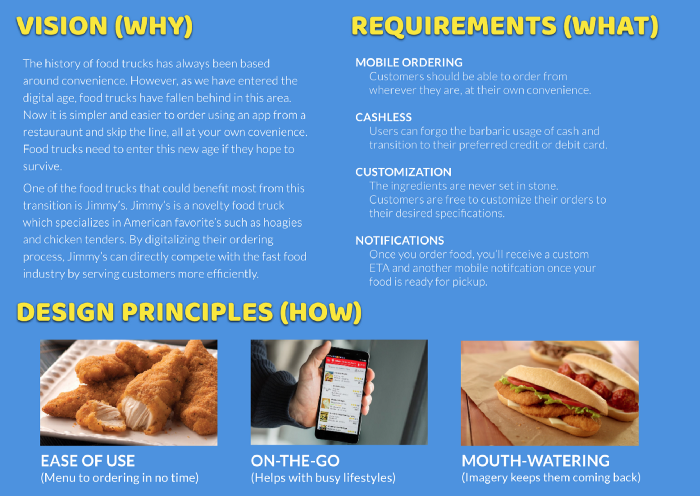 The history of food trucks has always been based around convenience. However, as we have entered the digital age, food trucks have fallen behind in this area. Now it is simpler and easier to order using an app from a restaurant and skip the line, all at your own convenience. Food trucks need to enter this new age if they hope to survive.
One of the food trucks that could benefit most from this transition is Jimmy's. Jimmy's is a novelty food truck which specializes in American favorite's such as hoagies and chicken tenders. By digitalizing their ordering process, Jimmy's can directly compete with the fast food industry by serving customers more efficiently.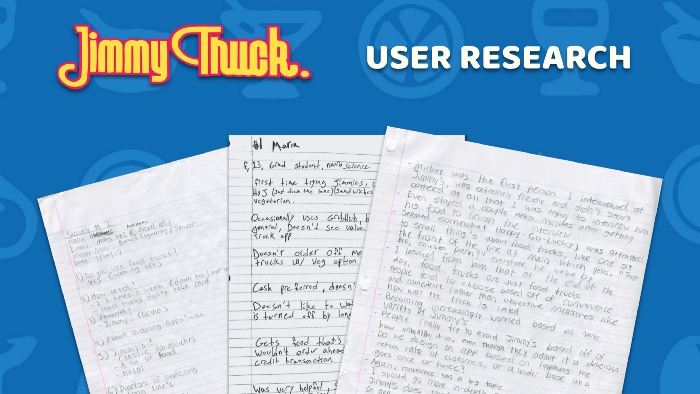 We first set out to understand what the core of the problem we were trying to solve was. To do this, we immediately began conducting observational research to see how Jimmy's customers engaged in the ordering process. After we understood what customers' tasks were, we began to interview them to understand their goals and motivations. Most of this was accomplished through guerrilla user interviews, standing outside the Jimmy's Truck itself to talk to customers. Later on, we used these same people for usability testing.
We determined that Jimmy's users were:
Mostly Drexel Business and Engineering students stopping by after class
Stressed with classes and treated Jimmy's Food Truck as a reward
Want simple solutions to simple problems, food trucks are a place where they can "turn their brain off" after class
We continued to conduct research and interviews with users throughout the project. However, now that we had this crucial information, we began the design process.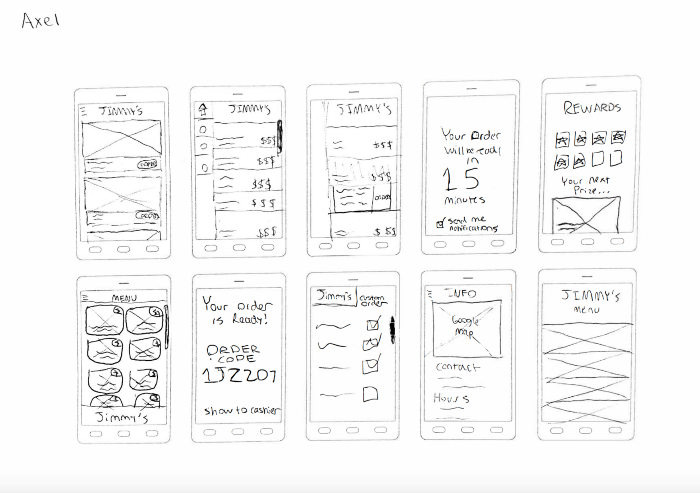 Based off our research, we determined that our app needed to be intuitive, easy to use, clear, and most of all, simple. Users have no reason to be using this app for longer than necessary. This ruled out many "social media" integration features that some of our peers were placing into their apps for other food trucks. Our users had no patience to engage with that, and wanted an Uber-like experience where most of the app's primary function takes place outside of the screen.
With that, we began ideating.
Our initial ideas for the app were that the user could accomplish ordering their food in as little screens as possible. Jimmy's had a relatively small menu, which gives us some flexibility here. Once they ordered their food, they could mostly get the information they needed from notifications.
Before prototyping, we wanted to make sure our user/task flows were fleshed out and we weren't missing anything in the process. To accomplish this, we created a journey map:
​​​​​​​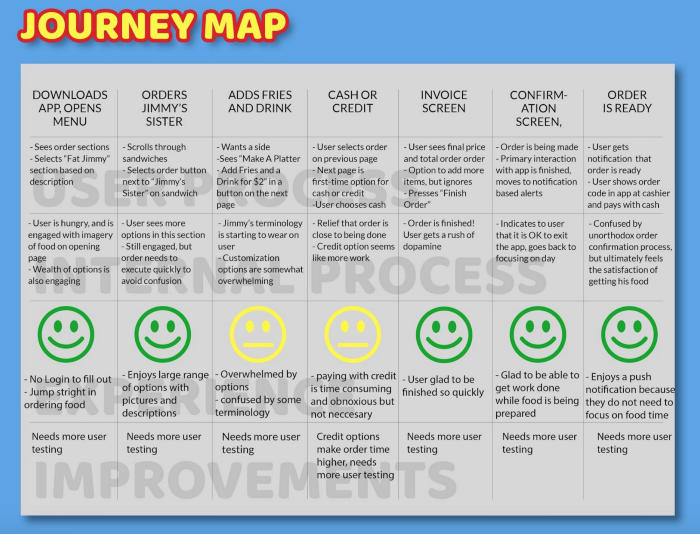 After this, we began an agile process of updating our designs and subsequently prototyping them in UXPin: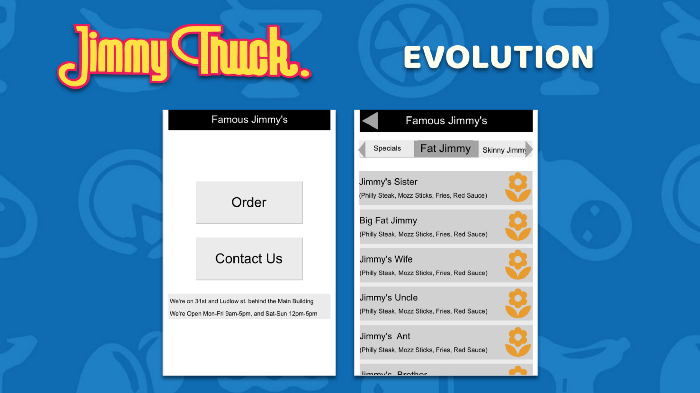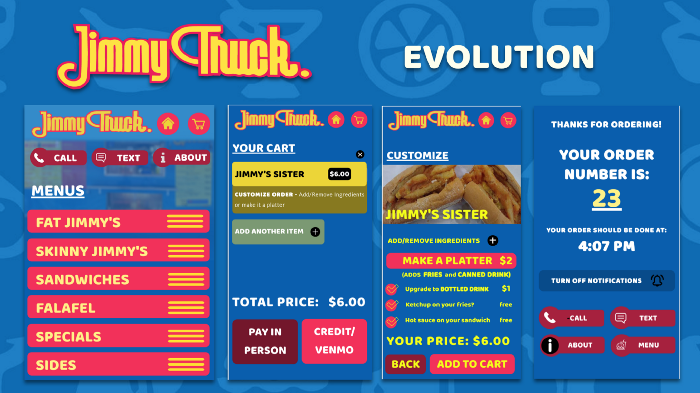 About halfway through, we also did a paper prototype, which gave us a ton of useful feedback on our app: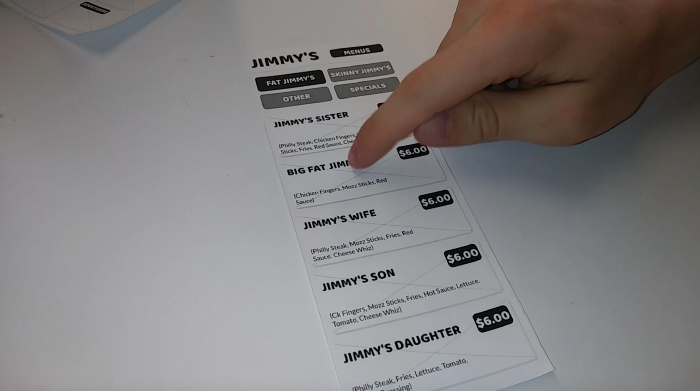 Here are some of the final designs: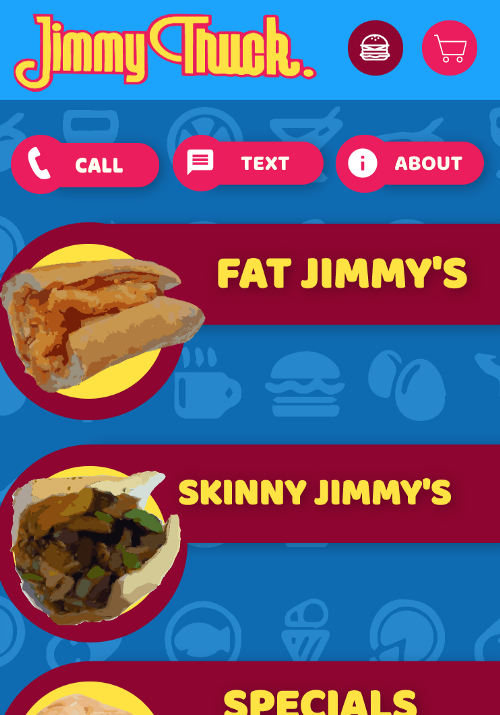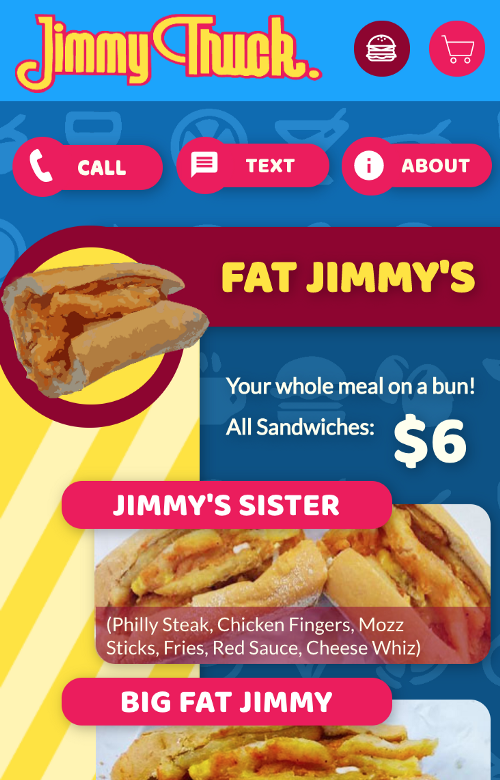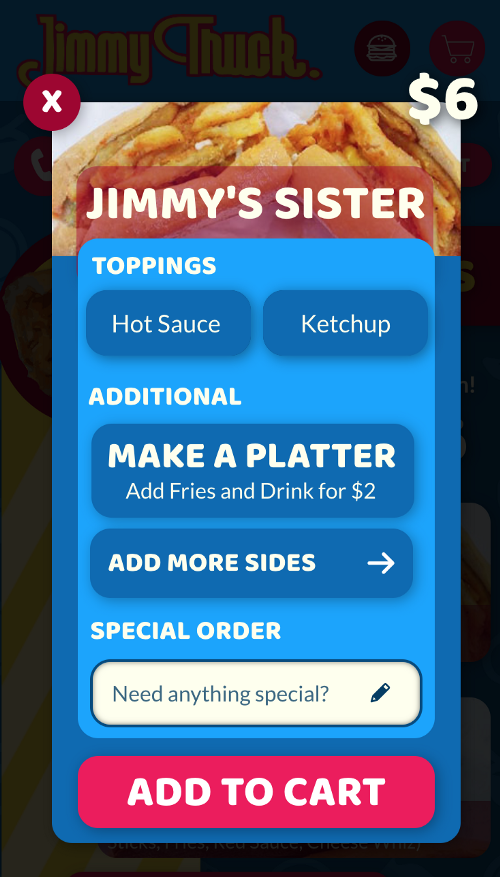 This was my first time really engaging in the UX process, so there was a lot I took away from this project:
- User research at every step of the project is incredibly important. Our intuition as designers at this point in our education was to just treat the "users" as a general consideration. This project taught me how important justifying your design changes with user data is.
- Design collaboration is incredibly difficult. As Project Manager, it was difficult to manage productive debates between team members. I learned a lot about how creating an agreed-upon design aesthetic through deliverables like style guides and moodboards can solve a lot of potential disagreements later on.
- At the beginning, quantity over quality is important. My perfectionist tendencies made me want to really refine one design from start to finish, but the ideation we were required to do in the beginning showed me that the best ideas come from relentless brainstorming. I was surprised to see how many "throwaway" design choices in my early sketches found themselves back into our app later on.